Future generation management consulting

Accelerated use of "big data technology"
Expanding of storage capacity of information has been rapidly accelerating in recent years. The global amount of information recorded 2.8 zettabyte in the year 2012 is resumed to be reached 40 zettabyte in the year 2020, as the amount has been doubling every two years.
※The zettabyte indicates multiplication by the seventh power of 1000 or 1021 in the International System of Units (SI).

There was a time in the past that the person who obtained limited and particular information had monopolized the market. This fact indicates how precious element the information in the business is.
Currently, "big data", the aggregation of enormous and complicated information, is attracting public attention. If, obtaining limited and particular information enables to control market, the clues to obtain such control should be buried in big data. However, confirming the accuracy of the obtained information may not be easy, even objective information is gained, as current technologies or means of processing are not possible to manage such enormous amount of data. Picking up only-one accurate information out of such enormous amount of information is like a treasure hunt in vast empty desert, and besides, simply relying on the experience could not lead business to success nor lead to follow the business today.
Then, what is the way to break through current circumstances and obtain effective information?

Turning from "customer first principle" to "individual customer principle"
To lead the market, obtaining the enormous amount of information and analyze the effectiveness of such information is extremely important. The each individual information is originally transmitted by the feelings of people. If, the information is not generated from nowhere but organically formed by the feelings of people in actual practice, then understanding each individual customer may be the nearest way to obtain effective information. Today, the basic strategies of companies tend to be changed from "customer first principle" to "individual customer principle". In traditional marketing strategies, customers were considered as one whole lump. However, the digital progress today made it possible to change the strategies to focus on individuals, as targeting "one individual customer in whole market" and/or "one individual customer in whole lump", which is traditionally considered extremely difficult. We provide support to change your strategies from "customer first principle" to "individual customer principle" by finding out only one customer out of vast data and making such customer to your one individual customer. We believe these support should be provided in consultation from now on.
Renewed innovation and high motivation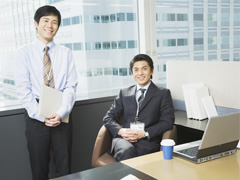 The mainstream of business concept is currently shifted to be "Business to Individual" ("BtoI") expanded beyond the conventional concept of BtoB and/or BtoC. Not to miss on the wave of this concept, it is important to create your own strategy and provide profit to your customer utilizing new information and telecommunication technologies. We believe that the most important thing is, not analyzing the enormous amount of data but sincerely facing to individual customer needs to eventually satisfy the needs of other customers, which leads to provide only-one solution to whole customers.


Distribution of Information and Telecommunication Infrastructure
Since early 2000s, Japan has implemented a series of measures to become a leading country of information and telecommunication technologies, as providing "e-Japan", "u-Japan" and others. This implementation made Japan realized to be a country which worlds' leading information infrastructure such as broadband internet access, mobile system and cloud computing system had been constructed.

Efficient utilization of information and telecommunication
Use of smart phone has changed configuration of public communication and consume pattern. Use frequency of information and telecommunications by smart phone users is significantly higher than that by feature phone users.
In fact, the utilization ratio in various aspects by smart phone users compared with feature phone users indicated respectively as follows: 87.7% and 38.8% in information search service; 48.6% and 16.9% in online shops; and 63.4% and 13.3% in SNS. In the utilization of SNS, significant difference in ratio was also shown depending on contents, such as video views, music distribution service and electronic publications. As these ratios show, the utilization of smart phone in 2013 made the amount of internal data distribution increased and recorded 8.7 times greater than that of 8 years earlier. Furthermore, in 2012, the utilization of smart phone brought sales of 60.9 trillion※ yen and created other various values.
※This figure is cited from "2014 WHITE PAPER Information and Communications in Japan" issued by Japanese Ministry of Internal Affairs and Communications.

Risk Management of information
The importance of information has been widely recognized in recent years; therefore, it is indispensable for companies to consider information management risks and to review how to control information management. However, it seems that companies' correspondence to such circumstances lags behind the progress of information and telecommunication market and increased use frequency; especially, this is seen in small and medium sized companies compared with large companies which have specialized department handling information and telecommunication matters. To break through this circumstance, companies need to take effective measures, such as improving security for information management system, establishing companies' web-site for smart phones, and preparing guidance and manuals for internal use.
As described above, regardless of company size, information management became a significant matter for companies respected to its business today.
We, forval, is willing to dedicate ourselves not only provide service to produce profit but to provide risk reduction by utilizing technology and knowledge we experienced and achieved regarding information and telecommunication.


Development of Overseas Market
Japanese market has been shrinking due to declining population coupled with low birth rate and aging society; therefore, it is reasonably foreseeable that companies would face difficulties to continue their business unless otherwise challenging overseas market. However, developing overseas market by itself is not easy for small and medium-sized companies due to less business resource, such as people, products, money and information, compared to those of large companies'.

We, Forval, have been continuously challenging "creation of social value" as our corporate mission since establishment in 1980. Currently, we are pursuing the way to supply the structure that small and medium-sized companies may challenge to develop overseas market while working on their core business.

We have established bases in Indonesia, Cambodia, Vietnam and Myanmar. We strongly believe that establishing bases and conducting business in overseas as a foreign company gives us great significance, because that makes us experience and see the things at the same perspective, which eventually makes us realize what support is actually in need locally.

Overseas Market within Japan
The number of people visiting Japan has been increasing year by year, and recorded 10 million for the first time in 2013. As Olympics and Paralympics are going to be held in Tokyo in 2020, it becomes necessary for Japan to arrange environment to welcome foreign visitors. To achieve such arrangement, it is expected that overseas business within Japan would be increased.
We, Forval, will continue to support development of overseas business within Japan, as well as those at local sites.


Global Warming Countermeasures
It is assumed with extremely high reliability that the major factor for global warming currently in question is caused by human activities.
In Japan, temperature has risen 1.14 ℃ with over 100 years from 1898 to 2013, exceeding 0.69 ℃ of global average temperature.
To break through this condition, Japan has taken the approach of United Nations Framework Convention on Climate Change (UNFCCC/FCCC) adopted in 1992 and The Kyoto Protocol adopted in 1997. In addition to those, Japan established an internal guideline to reduce greenhouse gas emissions to 80% of the 1990 amount by 2050.

Consideration of Environment
While economic recovery is the one of the most important issue in Japan, we need to search economic countermeasures considering benefits for the environment as continuing business. We, Forval, will continue to provide consultation with environmental consideration as we contribute to a recycling-oriented society.


Personnel Supporting Business
We provide consultation of three sectors; these are, "Information and Telecommunications", "Overseas Market" and "Environmental Protection". We believe that personnel itself is extremely important and is the common features to all three aspects.
Person who has proper knowledge and technologies promotes business and enhances business efficiency utilizing information and telecommunications; talented personnel is dispatched to abroad when establishing overseas business; companies need to hire new employees after establishment of overseas business; and corporate management considering environment is in need: these each aspect are all conducted by personnel working for companies.
While the importance of personnel is recognized, issues caused by personnel has increased; such as, disclosure of personal information caused by illegal trade of customer information, disclosure of customer and corporate information caused by data loss of USB memory, and deterioration in the creditworthiness caused by improper use of SNS.
As can be seen from the above, education of personnel becomes important to operate business in either way of increasing revenue or avoiding risks.

Strengthen and Educate Personnel
The industry of information and telecommunications technology is expected to realize sustainable Japanese economy growth, and manage declining population coupled with low birth rate and aging society. The annual growth rate of information and telecommunications technology industry was 3.7% during 1995 and 2012, which shows the highest rate among all industries. Furthermore, the number of employees of information and telecommunications technology industry in 2012 was 396.8 K accounting for 7.1% among all industries.
Smart Japan ICT Strategy established in 2014 reviewed the strategy considering creation of innovation and/or overseas development to facilitate economic growth utilizing information and telecommunications technology.

To support information and telecommunications industry, developing superior engineers, all employees utilizing information and telecommunications acquire correct knowledge, and acquiring license to utilize such knowledge is required. In addition, training and dispatch personnel to overseas become important.

We, Forval, will contribute to corporate management by educating your employees providing know-how of personnel training toward establishment of new business and proper concept of information and telecommunications.


Management support for " i " by taking full advantage of a thousand brains.
We believe it is our mission to provide only-one solution appropriately customized for each individual customer.
The " i " means the followings:

information, imagination, idea
To utilize "information" as strategy of corporate management, we create unconventional imagination and develop full of ideas to contribute profitability of customers.

identity, intelligence, innovation
Bring innovation to customers' business taking full advantage of employees' individual pride and originality, together with all employees' knowledge.

We hope that each individual of us becomes a large lump and commit to provide support for our only-one customer.

Management support for " i " by taking full advantage of a thousand brains.
That is our, Forval's icon services.

"icon" services that Forval provides for corporate management support.
The "New Standard" that we, Forval, have made significant contribution recent years as "the group of future generation management consultant" is the consulting services we provide with our brand "i con".
The "i con" means the services we provide solution through periodic visit for wide variety of issues relating to corporate management. We seek solution for the issues with corporation of all departments, group companies and business partners.
We provide solution for the issues, such as development of further sales growth, establishment of new business, securing personnel, making support of internal regulations, improvement of business operation and development of overseas market.
The "i con"; the corporate management support services goes beyond conventional sales of information and telecommunication devices and regular maintenance services of OA equipment; that is our "i con".